University of Houston-Victoria
The University of Houston-Victoria was founded in 1973 as the University of Houston Victoria Center. Ten years later, a bill was passed by the Texas Legislature to allow the center to become UHV with permanent status as a degree-granting university offering junior-, senior- and graduate-level courses. Legislation signed into law in 2009 allowed UHV to admit its first freshmen and sophomores in fall 2010.  
UHV is now a dynamic destination university in the Coastal Bend region of Texas that serves the educational needs, promotes the economic well-being and advances the quality of life for the university and community through teaching, research and service excellence. Through the years, UHV's enrollment has grown to more than 4,000 students, and the university confers about 1,392 degrees annually. UHV boasts more than 22,000 alumni.  
Under the leadership of President Bob Glenn, UHV offers undergraduate and graduate degrees in four colleges: Business, Education & Health Professions, Liberal Arts & Social Sciences, and Natural & Applied Science. Programs are offered both online and face to face at the Victoria campus in addition to UHV Katy. UHV serves transfer students through dual admissions programs with Victoria College, Wharton County Junior College, Coastal Bend College, Houston Community College, Lone Star College and others.
Undergraduate Education
Freshmen can select from a wide variety of business; education and health professions; liberal arts and social sciences; and natural and applied sciences programs offered in Victoria or Katy. About 72.5 percent of UHV students are enrolled as undergraduates. 
Freshman applicants who graduate from a U.S. high school or earn a GED certificate must meet two of the three following requirements to be eligible for regular admission: They must rank in the top 50 percent of their graduating senior class; their overall high school grade-point average must be at least 2.0 on a 4.0 scale; and they must have a minimum score of 18 on the Enhanced American College Test or a minimum score of 940 on the New Scholastic Assessment Test. UHV also offers a test-optional admissions standard for students who graduate in the top 60 percent of their high school class and have a minimum GPA of 2.5. Applicants are automatically admitted if they graduated in the top 10 percent of their class. Undergraduate students who are transfer students (with 12 or more semester credit hours of college courses) can be admitted if they have earned at least a 2.0 GPA in all nonremedial, college-level coursework from an accredited institution and submit the appropriate paperwork.
Graduate Education and Research
UHV's master's and specialist programs open up career opportunities for students. The university offers graduate programs in many areas, including education, business, publishing, forensic psychology, creative writing and computer information systems. Research/sponsored program expenditures at UHV were more than $416,867 for Fiscal Year 2021.
UHV at Katy
At UHV at Katy, students can finish their bachelor's degree as transfer students (junior- and senior-level classes) or obtain a master's or specialist degree. Degrees are offered by the UHV colleges of Business, Education & Health Professions, Liberal Arts & Social Sciences, and Natural & Applied Science.
Fact Sheet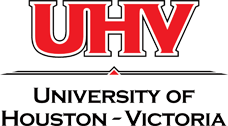 Established:

1973

President:

Robert Glenn

Enrollment:

4,197

Faculty:

131

Staff:

296

Alumni:

22,141

Degree Programs:

45

Annual Degrees Awarded:

1,392

Budget:

$90.5 million

Tuition & Fees:

$8,767 per year (undergraduate resident-average, 30 semester credit hours per academic year).

Research Expenditures:

$416,867

Library:

The UHV Library provides access to more than 359,900 resources. Electronic resources feature access to more than 130 research databases, 116,000 full text journals and 85,000 e-books.

Current Replacement Value:

$456.4 million
Enrollment by Geographic Source