About Renu Khator
Chancellor, University of Houston System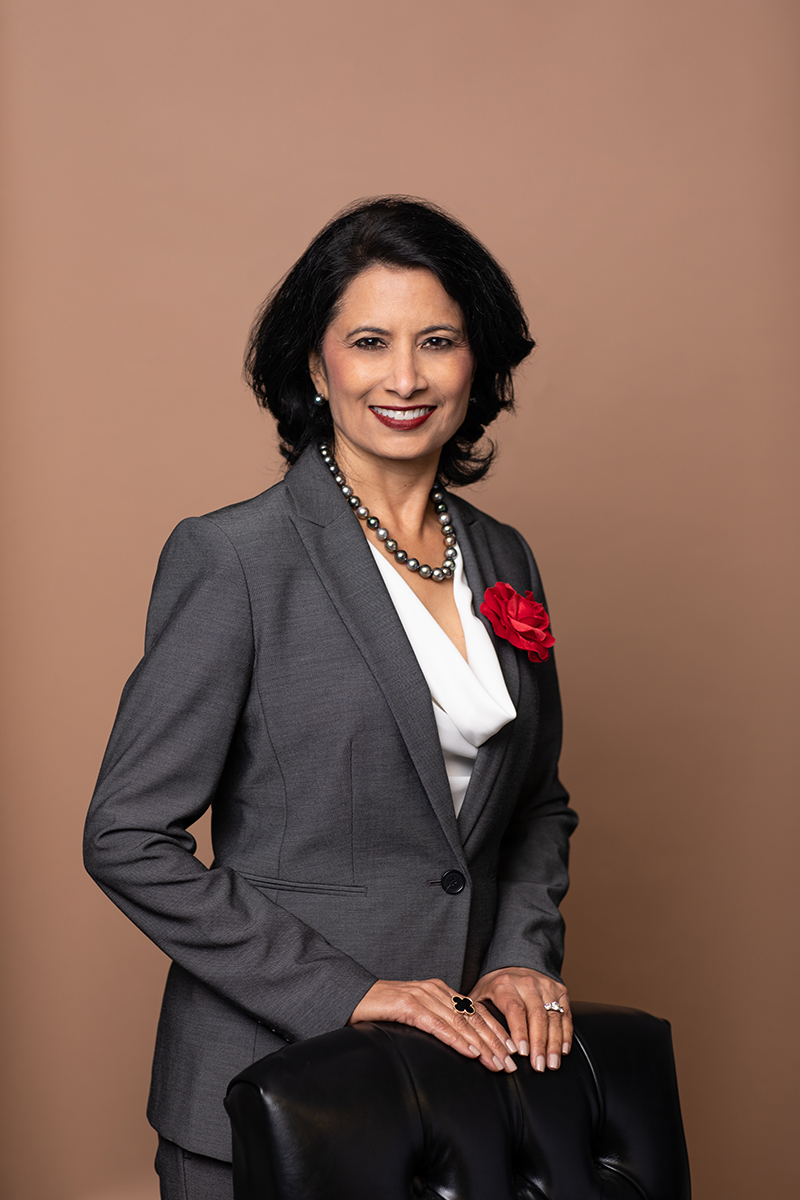 Renu Khator is chancellor of the University of Houston System — the longest-serving chancellor in the state of Texas — and president of the University of Houston. In 2008, she broke boundaries and glass ceilings when she assumed her appointments and became the first female chancellor in the state of Texas and the first Indian immigrant to lead a comprehensive research university in the U.S.
As chancellor of the UH System, Khator oversees a four-university organization that serves nearly 76,000 students and has an annual budget that exceeds $1.8 billion.
The UH System includes the University of Houston, University of Houston-Clear Lake, University of Houston-Downtown and University of Houston-Victoria. Under her leadership as chancellor, each university has achieved exponential growth in academic achievement, student enrollment and community impact. Most impressive is each university's rapid expansion into neighboring suburban and urban areas through additional instructional sites, including UH at Sugar Land and UH at Katy; UH-Clear Lake at Pearland and UH-Clear Lake at Texas Medical Center; UH-Downtown Northwest; UH-Downtown at Lone Store College Cyfair; UH-Downtown at Lone Star College Kingwood; UH-Downtown at HCC Coleman; and UH-Victoria at Katy.
A champion of public education and its transformative power, Khator is constantly seeking to expand the systems' comprehensive education resources to improve the lives of all in the Greater Houston region and beyond.
In 2021, the Texas Legislature allocated close to $340 million in funding for capital construction projects across the UH System. UH-Clear Lake, UH-Downtown and UH-Victoria each received nearly $45 million for new construction, renovation of existing buildings and improved infrastructure. UH was allocated approximately $204 million to support new construction at its main campus and UH at Sugar Land. The much-needed funding will allow system universities and instructional sites to expand educational opportunities, launch new programs and meet the ever-changing workforce demands of regional and state economies.
Under her strategic direction, the Public Art of the University of Houston System has reached new levels of prominence by shifting from collection development, commissioning, object conservation and long-term exhibitions to an all-encompassing arts organization with all core museum functions, including temporary exhibitions, robust public programming, research, education and broad community outreach.
Khator was born in Uttar Pradesh, India, earning a bachelor's degree in liberal arts at the University of Kanpur. She received her master's degree in political science and Ph.D. in political science and public administration from Purdue University. A noted scholar in the field of global environmental policy, she has published numerous books and articles on the subject. Prior to her appointment, she was provost and senior vice president at the University of South Florida, capping a 22-year career at that institution.
She was chair of the Board of Directors of the American Athletic Conference (AAC) from 2017-2019 and served as AAC's representative to the NCAA Division I Presidential Forum. Khator was also a member of the Indian Prime Minister's Empowered Expert Committee, charged with selecting India's 20 world-class "Institutes of Eminence," the U.S. Department of Homeland Security's Academic Advisory Council, the Texas Medical Center Advisory Board, Chair of the American Council on Education (ACE) and the 11th District Chair of Federal Reserve Bank of Dallas. Khator is currently a member of the Association of Governing Boards of Colleges and Universities Council of Presidents, the Council on Foreign Relations and the Greater Houston Partnership.
She was elected to the American Academy of Arts and Sciences in 2020 and has received numerous accolades for her leadership. Khator has been inducted into the Texas Women's Hall of Fame and received the Council of Fellows/Fidelity Investments Mentor Award from the American Council on Education (ACE), the Excellence in Leadership Award from the U.S. Hispanic Chamber of Commerce, the President of the Year Award from the Association of College Unions International, and the President's Award from NASPA, the national association of student affairs administrators.
Khator received the Pravasi Bharatiya Samman Award from the president of India, the highest recognition conferred on overseas Indians based on their "significant contributions" to their homeland. In addition, the U.S. Citizenship and Immigration Services included her among its Outstanding Americans by Choice awardees, recognizing her achievements as a naturalized citizen.
Purdue University awarded her with the Doctor of Social Sciences degree, honoris causa, and Swansea University with the Doctor of Letters, honoris causa.
Khator's husband, Suresh Khator, is associate dean of the UH Cullen College of Engineering. They have two daughters, both of whom are ophthalmologists, and three grandchildren.
As president of the University of Houston, she has led record-breaking research funding, enrollments and private philanthropy. Since her arrival, the University has achieved Tier One status for highest research activity, been awarded a national honor society Phi Beta Kappa chapter, established a College of Medicine, sharply increased graduation rates and academic prestige, and reclaimed its athletic excellence.